Take Back Alabama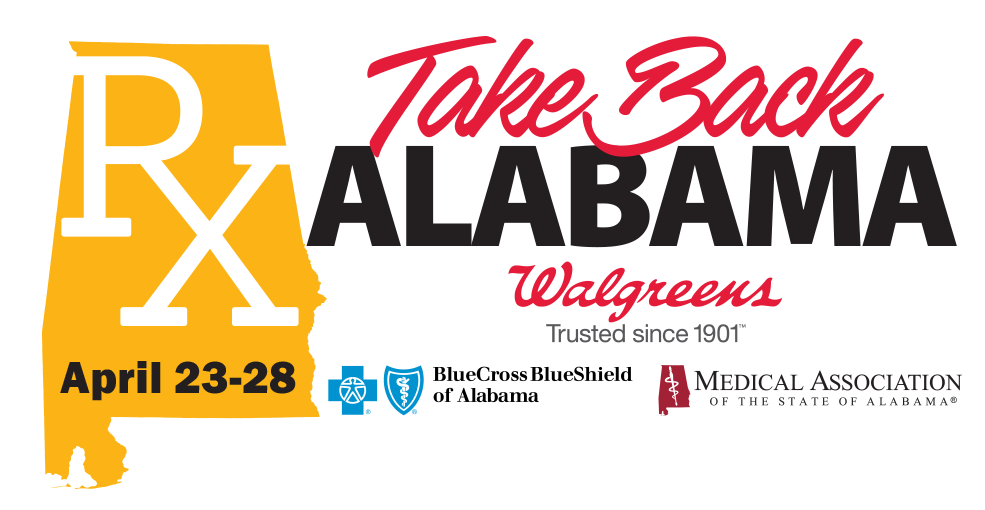 Did you know there are Walgreens locations where you can safely dispose of your unused over-the-counter and prescription medications year-round? Walgreens, Blue Cross and Blue Shield of Alabama and the Medical Association of the State of Alabama are partnering for an unprecedented campaign to Take Back Alabama!
Visit the following Walgreens locations to safely dispose of your unused medications:
7155 US Highway 431
Albertville, AL 35950
1815 9th Avenue N.
Bessemer, AL 35020
101 Green Springs Highway
Birmingham, AL 35209
4700 Highway 280
Birmingham, AL 35242
9325 Parkway E.
Birmingham, AL 35215
2940 W. Main Street
Dothan, AL 36305
900 Rucker Boulevard
Enterprise, AL 36330
2 Greeno Road S.
Fairhope, AL 36532
1801 Montgomery Highway S.
Hoover, AL 35244
7813 Highway 72 W
Madison, AL 35758
3948 Airport Boulevard
Mobile, AL 36608
6680 Atlanta Highway
Montgomery, AL 36117
2515 Crawford Road
Phenix City, AL 36867
Walgreens at these locations have drop boxes in which residents may safely deposit unused prescriptions and over-the-counter medications…no questions asked. These boxes are locked, and there is no danger of your medications getting into the hands of someone who could accidentally overdose or misuse them.
The Medical Association would like to thank our partners, Blue Cross and Blue Shield of Alabama and Walgreens, for their participation in Take Back Alabama.
---
UPDATE APRIL 23, 2018: The Medical Association's Take Back Alabama Week kicked off this week with a press conference at Walgreens in Birmingham on Monday, April 23. Representatives from AmerisourceBergen, Blue Cross and Blue Shield of Alabama, Pfizer, Prime Therapeutics and Walgreens joined Attorney General Steve Marshall and Birmingham physician Gregory Ayers to announce the installation of 13 new safe medication disposal kiosks in select Walgreens locations in Alabama.
"Once they are in the consumers' hands, many of these medications are not all used," Dr. Ayers said during the press conference. "A patient may use only a few pills out of a prescription, and then many of these medications are left over that just sit unused in a medicine cabinet…unsecured in most cases. These medications need to be disposed of safely so they don't get into the hands of those who don't need them. These kiosks offer a very safe avenue for disposal."
The kiosks allow individuals to safely and conveniently dispose of unwanted, unused or expired medications, including controlled substances and over-the-counter medications at no cost. They are available during regular pharmacy hours.
The week ended with Take Back Alabama's parent program, Smart & Safe Alabama, exhibiting at the Annual Opioid Crisis in Alabama: From Silos to Solutions to further spread the word about the new medication disposal kiosks as well as raising awareness for prescription drug safety.
Check out some of the news coverage, compliments of WIAT: