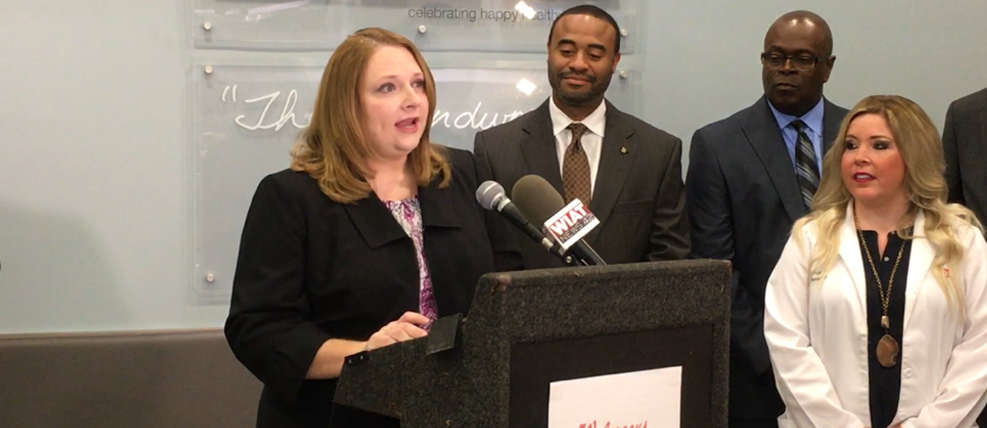 The Medical Association's Smart & Safe prescription drug abuse awareness program recently partnered with Walgreens to bring awareness to medication drop boxes to allow residents to safely dispose of the unused medications.
Birmingham internist and Association Board Member Darlene Traffanstedt was among the guest speakers including Hoover Mayor Gary Ivey and Attorney General Luther Strange who addressed the problem of prescription drug use in Alabama.
"Drug abuse has taken the lives of our young people who have good families, just like yours and mine," Dr. Traffanstedt said at the press conference on Friday, July 29. "Young people who are full of promise but are somehow exposed to opiates…can face a lifelong struggle. Prescription opiate use can easily escalate to heroin use, which can ultimately take lives. Drug overdose deaths now outnumber car accident deaths. We as a state must make every effort to change the situation. We applaud Walgreens for giving our families a safe place to dispose of their medications that carry the potential for abuse, and I encourage our families to take advantage of these boxes and to clear their homes of any unnecessary medications."
The kiosks provide a safe and convenient way to dispose of unwanted, unused or expired prescriptions, including controlled substances, and over-the-counter medications at no cost. As part of Walgreens drug take-back program, the kiosks make the disposal of medications easier and are available year-round to help reduce the misuse of medications and the rise in overdose deaths.
Alabama is one of 21 states where the Walgreens Safe Medication Disposal Programs has been implemented and one of 14 states where naloxone will be available without requiring a prescription.
Earlier this year, the Medical Association helped pass legislation expanding access to naloxone, a drug that can reverse some opioid overdoses in certain emergency situations. This law authorizes State Health Officer Dr. Tom Miller to sign a standing order to allow Alabama's pharmacists to dispense the medication to people in a position to assist others at risk of an overdose as well as to an individual at risk of experiencing an opiate-related overdose.
Naloxone has been proven to save lives. It may be used for the reversal of some opioid overdoses, whether from legally prescribed opioids or from illegal substances such as heroin or illegally produced fentanyl. Naloxone may be administered through injection or by nasal spray allowing the person suffering from an overdose to regain consciousness and breathe normally. Unlimited refills are authorized by the new law. Naloxone poses no danger to individuals who come into contact with it, and it has no potential for abuse. It is effective only if a person has opioids in his or her system; the medication has no effect if opioids are absent.